Welcome to Assisted Rides
Assisted Rides is designed for organizations & communities that provide rides for senior citizens, people with disabilities, etc.

Whether you have a volunteer driver program or are a full-blown Paratransit Operator Assisted Rides is a service that can make managing your program remarkably easier.

It's fast, easy to set up and packed with features that make it the premier service of it's kind.

Set up ride requests in moments


Track miles and hours volunteered by each driver


Print Google Maps & Turn-by-Turn directions for each trip


Supports any kind of service: in-home visits, yardwork, etc.


Give volunteers permission to "self-assign" rides to themselves


Give clients and family the ability to submit request for rides


Organizations can share the software with our "Areas" feature


SmartPhone accessible


Supports organizations with their own vehicles


Allows a charge to be applied to each ride/print Client Invoices


Calculates per-milage reimbursments by volunteer or client


Extensive reporting by: client, volunteer, trip type, age range, etc.

and much more


For more information contact:
The AlterNetWays Company
925.952.4519
or email
Mark Evanoff

Thank you!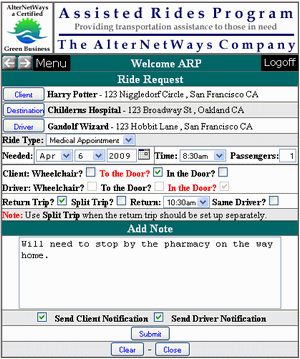 Setting up a Ride is Easy
Assisted Rides
makes it easy to set up new ride requests. Drop-down listing of clients, drivers and destinations lets you set up a new request in seconds.
You can track different kinds of rides you provide (medial appointments, grocery shopping, etc.), select the date from a pop-up calendar, add notes and send notifications via email to both client and driver.
Split Trips
For those situations when the client will be several hours at an appointment, you can split the trip and assign two different drivers.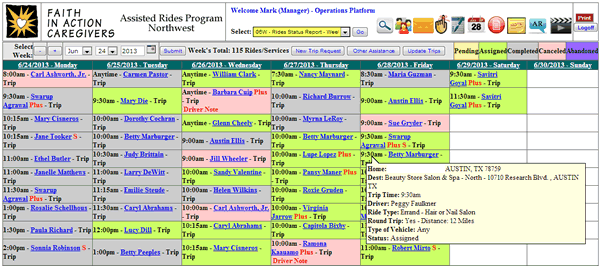 At a Glance Weekly Calendar of Schedule
Assisted Rides provides you with a color-coded weekly view of your scheduled rides and services. Hovering over an entry displays a detailed information box about that request. It's fast and simple to use!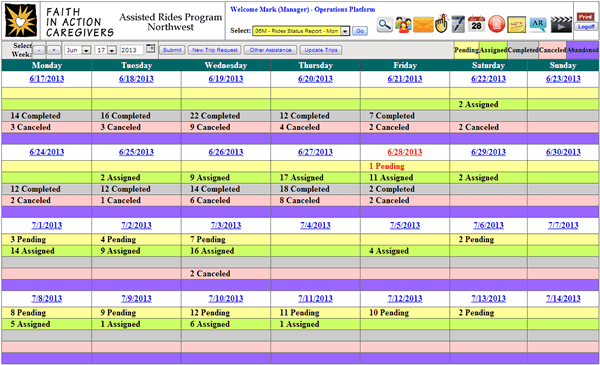 Monthly Calendar of Scheduled Request Helps Keep You on Top of Things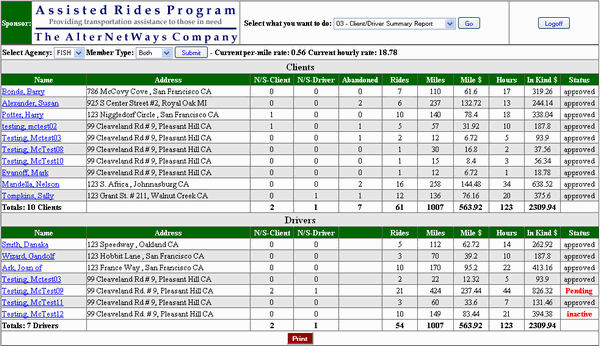 Assisted Rides
tracks how many rides given to each client, volunteered hours, miles and calculate your "in-kind dollars" so critical for grants requiring matching funds. Also tracks "no shows" by client and driver and abondoned rides.

Assisted Rides
will also report rides by destination. Allows you to really show different organizations how much of an impact your efforts are having in bringing individuals to their facilities.
If you have many clients that go to the same locations again and again, you can give the administrative staff of those locations their own login so they can schedule new rides as needed. After all, if a client is scheduling their next appointment to a hospital, why not let the same person schedule their ride? This avoids the client forgetting to call you and request the ride later, an important consideration when helping senior citizens or people on disability.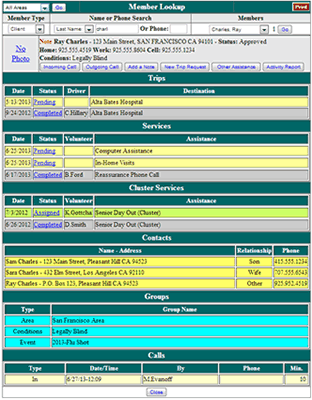 Member Lookup
Puts all the important information about a Client or Volunteer at your fingertips with a simple lookup:


Trips scheduled or provided
Other Services - i.e. in-home visits, etc.
Conditions - i.e. hard of hearing, etc.
Cluster Services - i.e. meals-on-wheels, etc.
Contacts - address, phone number, relationship
Groups Client is a member of (i.e. Veterans, etc.)
Call log - incoming/outgoing calls to Client
From here you can:
Schedule a new trip request
Update an existing trip request
Schedule an "Other Services" request
Update Client/Volunteer information
Add a Client/Volunteer note
Log incoming/outgoing calls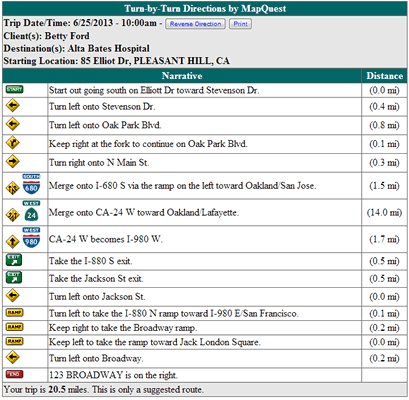 Turn-by-Turn Directions
Assisted Rides provides turn-by-turn directions that can be printed off to make it easy for Volunteers to know where they are going the first time!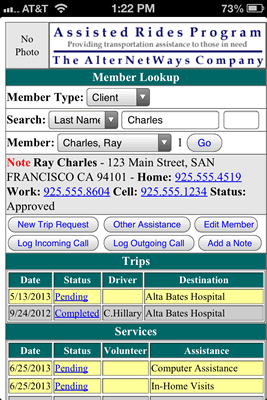 SmartPhone Accessible
SmartPhone access allows Volunteers to view the trips assigned to them and for you to schedule new trip requests while on the go!

Whether you use an iPhone, Droid or other kind of SmartPhone, you always have access to Assisted Rides using the browser built into your device.

For those organizations with their own vehicles, issue your drivers an iPad or tablet PC and they can receive and make updates to the status of rides throughout the day.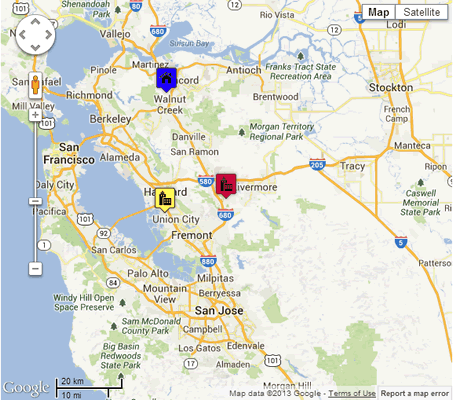 Display Google Maps
Assisted Rides uses Google maps to help Volunteers see where they are, the Client and the Destination

Volunteers can print off their "Trip Manifest" including a map and turn-by-turn directions, put it in their pocket and have all the information they need to complete a trip.

It's fast, simple and Volunteers love it!
Assisted Rides is packed with features that make it remarkably powerful
Set Up Ride Requests In Moments
Track Miles Driven and Hours Volunteered
Pre-approve Clients & Drivers
Display Needs for Wheelchair, To-The-Door or Thru-The-Door Assistance & "Preferred Drivers"
Display Drivers Willingness to Provide Requested Assistance
Drivers Can View List of Assigned Rides
Drivers Can "Self-Assign" Rides
Monitor All Pending Rides On One Page
Detail Reporting - by Client or Driver
Generate Statements for Client Payments & Driver Reinbursements
and much more!
Additional Services
The AlterNetWays Company
provides other services for organizations:
AlterNetRides - provides carpool, ride share, vanpool services and more for organizations
Commuter Challenges - conduct "challenges" to promote all forms of alternative transportation
AlterNetMessages - broadcast messages to phones - emergency notifications, school closings, etc.
Contact us today to learn more about our great suite of services. Thank you!